Grand Opening Event for Factory Zero.
General Motors is excited to welcome President Biden to Factory ZERO on Wednesday. Nov. 17, as the company opens the doors to its all-electric assembly plant in the heart of Detroit and Hamtramck, Michigan. Factory ZERO is the culmination of GM's multibillion-dollar U.S. investment in people, product and process. Our all-electric future will transform GM and the automatic industry. 
The World Will Never Be The Same.
10.23.21
What does it take to put the world on notice? Tune in at 12 pm ET on 10.26.21 to join professional basketball superstar and avid car enthusiast, Devin Booker and record-braking performance builder and driver, Emelia Hartford for a behind-the scenes look at the creation of the all-new 2023 Corvette Z06. Through conversations with General Motors' designers and engineers, they'll reveal the incredible passion and dedication that goes into creating the ultimate performance machine. 
Meet The Sierra Denali Ultimate, The Most Advanced And Luxurious Pickup In Its Class
---
See It. 10.21.21
The New 2022 GMC Sierra 1500 is almost here. Get ready to see all the ways Sierra is redefining what a pickup can be.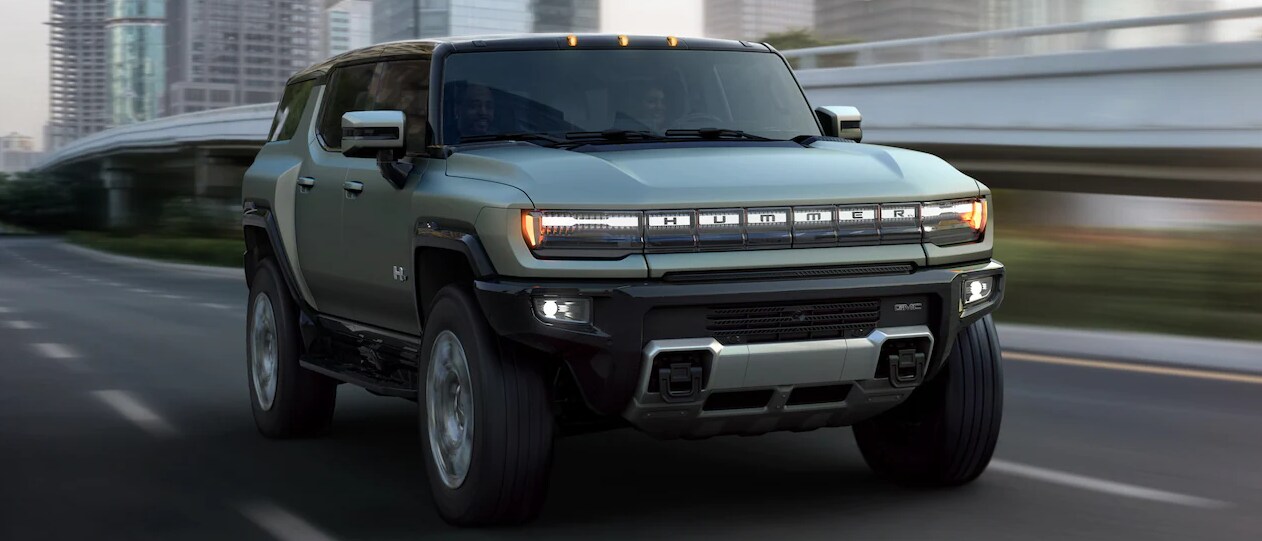 GMC Hummer EV SUV Reveal
General Motors has just released the first details and photos of the all-new GMC Hummer EV SUV which include features such as: 
Available CrabWalk
SUV Power Swing Gate
Pickup MultiPro Tailgate
Available UltraVision with Underbody Cameras
Up to 830 Horsepower
Up to 11,500 lb.ft. of Available Torque SUV
Up to GM-EST 482+ KM Available Range
Up to 0-60 (0-97 km/h) in Approx. 3.5 Seconds - SUV
Available Infinity Roof with Modular Sky Panels
Available Super Cruise - Driver Assistance Feature for Hands-Free Driving
Availability for the new GMC Hummer EV SUV starts in Spring 2024.

This Is The All-New 2022 Chevy Bolt EUV
General Motors just unveiled the all-new 2022 Chevy Bolt EUV, expanding the Bolt line with a more practical, SUV style body variant. 
Outside, the 2022 Chevy Bolt EUV brings its own distinctive styling, standing apart from the Bolt EV with unique sheet metal and exterior dimensions, including an extra 6 inches of length when compared to the Bolt EV. The 2022 Chevy Bolt EUV also features a sculpted front end and LED headlamps, as well as sequential turn-signal indicators. 
Inside, customers will also find an extra three inches of rear legroom compared to the Bolt EV. Tech features include a 10.2-inch infotainment screen and 8-inch digital gauge cluster, plus an electric gear shifter.
The 2020 Chevy Bolt EUV options list includes ventilated and heated front seats and a panoramic power sunroof. Notably the Bolt EUV is the first Chevrolet model to offer General Motors' Super Cruise semi-autonomous driver assist system, which enables drivers to remove their hands from the steering wheel during extended highway driving on over 320 000 kilometers of roads throughout the U.S and Canada.
Additional tech features include standard Forward Collision Alert, Front Pedestrian Braking, Automatic Emergency Braking, IntelliBeam, and Following Distance Indicator. Wireless Apple CarPlay and Android Auto are also offered.
Range per charge in the 2022 Chevy Bolt EUV is rated at 402 kilometers, with an 65-kWh lithium-ion battery providing the juice. Customers can get up to 152 kilometers of range in 30 minutes using standard DC Fast charge capabilities.
The Bolt EUV also comes standard with a Dual Level Charge Cord, which includes a changeable plug with a standard 120-volt three prong plug for Level 1 charging, and another plug for Level 2 charging up to 7.2 kW. 
Motivation is sourced from a single-motor drive unit producing 200 horsepower and 266 pound-feet of torque.
Availability for the 2022 Bolt EUV will open up this summer!
-Jonathan Lopez - Feb 14, 2021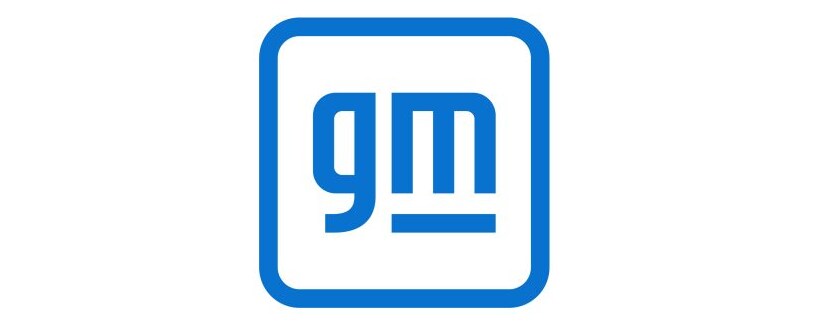 General Motors Unveils New Logo
General Motors has unveiled a new corporate logo. The new GM logo incorporates lowercase script with the "m" underlined, surrounding by a square boarder with rounded edges. The new logo is intended to acknowledge General Motor's latest focus on electric vehicle technology and vision for a world with zero crashes, zero emissions and zero congestion. 
The updated corporate logo will be used in all corporate communications going forward, and coincides with the launch of a new marketing campaign titled "Everybody In," which will promote The General's range of all new electric vehicles designed to fit the lifestyle and budget of every new car buyer, including for work, adventure, performance, and family. The range of new EVs will include Cadillac, GMC, Chevrolet and Buick products.

General Motors has announced it will launch 30 new all-electric vehicles worldwide by the 2025 calendar year, with more than 40 percent of GM's U.S. portfolio equipped with battery-powered propulsion by the end of 2025.
-Jonathan Lopez - Jan 8, 2021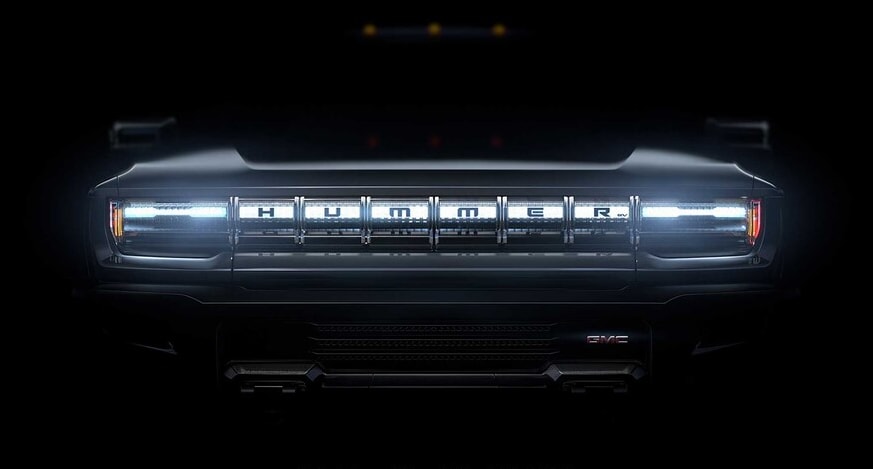 Hummer EV Reveal
Tonight at 5:00pm GM will reveal the world's first-ever, all electric Super Truck! 
This is an important milestone in GMC's history, and we couldn't be more excited to announce that we will be revealing the Zero Emission, 1000 Horsepower, Hummer EV on
GMCcanada.ca!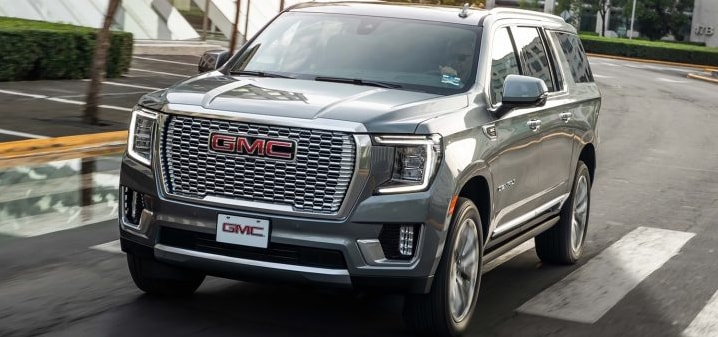 GMC Pro Safety Packages Added to 2021 Models
Safety features are a hot topic these days, and most automakers are scrambling to offer the latest and greatest tech items to entice buyers. That includes General Motors and GMC, which is now adding new GMC Pro Safety packages to specific 2021 models. 
Essentially, GMC's previous safety tech features packages, which include the Driver Alert Package, Driver Alert Package 1, and Driver Alert Package II, will be gradually replaced in GMC's product lineup with what the automaker is now calling the GMC Pro Safety Plus Packages. 
However, these new packages are more than a simple rebranding effort. Rather, the content of the new packages also changes.
More specifically, the new GMC Pro Safety Package includes the following popular features:
Forward Collision Alert
Automatic Emergency Braking
Following Distance Indicator
Front Pedestrian Braking
IntelliBeam Auto High Beams
Lane Keep Assist
Lane Departure Warnings
Meanwhile, the GMC Pro Safety Plus Package also adds in the following features:
Lane Change Alert
Side Blind Zone Alert
Rear Cross Traffic Alert
What's more, Pro Safety Plus adds in Rear Park Assist in certain models.
For now, the first 2021 models year vehicles to equip the GMC Pro Safety Package and GMC Pro Safety Plus package include the GMC Terrain, the GMC Acadia, the GMC Yukon, and the GMC Yukon XL. 
That said, we imagine that the long-term plan will be to replace and rebrand the safety offerings for the entire lineup with the two new packages listed above. 
By: Jonathan Lopez
-Sept. 26, 2020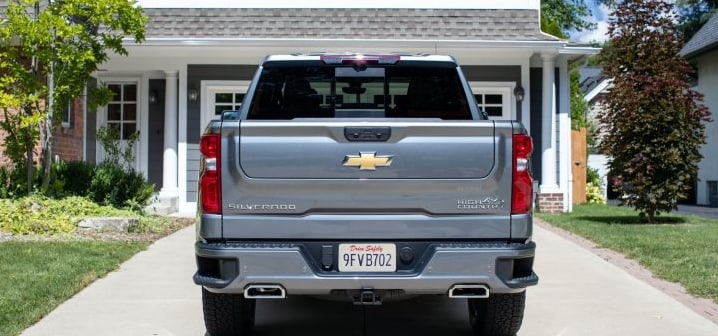 2021 Chevy Silverado 1500 Will Offer Multi-Flex Tailgate On All Trim Levels
General Motors recently unveiled the 2021 Chevrolet Silverado 1500, and with it, the new configurable
Muli-Flex Tailgate System
. Critically, the new Multi-Flex tailgate feature will be offered on all 2021 Chevy Silverado 1500 trim levels. 
Per a recent press release, GM states that "the Multi-Flex Tailgate will be available in early 2021 on all new Silverado 1500." We followed-up for clarification, and indeed, the Multi-Flex tailgate will be offered on all trim levels of the 2021 Chevy Silverado, from Work Truck, up to High Country.
In terms of usability and functionality, the Multi-Flex tailgate offered on the 2021 Chevy Silverado 1500 is identical to the MultiPro tailgate offered on the GMC Sierra. Both tailgates come with six different configurable positions to suit a variety of different jobs. These include the traditional primary gate opening, a full-width step, a foldable inner gate, a primary gate load stop, an inner gate load stop, and an inner gate work surface.
In addition to offering the new Multi-Flex configurable tailgate, the Chevy Silverado also comes with increased towing capacity for two of its engines, three new editions, new trailering features and technology, and Adaptive Ride Control suspension. 
By: Jonathan Lopez
-Sept. 25, 2020

Cadillac CT6 Named Best Upper Midsize Premium Car In 2020 J.D. Power APEAL Study
J.D. Power published the results from its 2020 Automotive Performance, Execution and Layout Study this week, with the Cadillac CT6 topping the upper mid-size premium car segment in the survey.
The J.D. Power APEAL Study attempts to gauge how much excitement and emotional attachment a brand or vehicle is able to generate in customers. Intended to serve as a complement to the J.D. Power Initial Quality Study, the APEAL study helps identify companies and models "that create joy for their owners," that helps overcome "any negatives," owners experience related to quality and overall reliability. For example, a sports car that drives great but perhaps has quality issues may do well in the APEAL study. Brands and vehicles are measured on a 1,000 - point scale when tabulating the results. 
The Cadillac CT6 finished atop the upper mid-size premium car segment, beating our the BMW 5 Series. The CT6 was also the only upper mid-size premium car to finish above the segment average with regards to APEAL score. The upper mid-sized segment is for larger luxury sedans, with J.D. Power referring to the Cadillac CT5 and vehicles in its segment as "mid-size" and to vehicles like the Audi A3 as "small." The CT6 was also one of the only eight vehicles on sale to top its segment in both the Initial Quality study and the APEAL study. This is a sign the sedan is performing well both with regard to build quality and inciting positive emotions in its owners when they are behind the wheel.
By: Sam Mceachern
- July 26, 2020

Chevrolet Blazer Ranked Best Mid-Size SUV In 2020 J.D. Power 'APEAL' Study
The J.D. Power APEAL Study serves as a complement to the company's Initial Quality Study and measures the amount of emotional attachment and excitement a vehicle generates in owners. Vehicles and brands are measured across 37 different attributes, ranging from the "sense of comfort and luxury they feel when climbing into the driver's seat to the feeling they get when they step on the accelerator," J.D. Power says, all of which help it determine how much appeal a company or vehicle has to its owner. The study is based on over 87,000 responses from owners of new vehicles.
The Chevrolet Blazer topped the study for non-premium SUVs, while the Nissan Murano was second in the segment and the Hyundai Santa Fe third. The Blazer is newer than both the Murano and the Santa Fe and is more powerful thanks to its available 308 horsepower 3.6L LGX V6 engine. The Blazer also stands out in the crowded mid-size SUV segment thanks to its sports car-inspired exterior appearance and available RS trim.
-Sam Mceachern - July 23, 2020.
Duecks Response To COVID-19
WorkSafe BC COVID-19 Safety Plan - Return To Work
The Dueck Auto Group is working closely with WorkSafe BC, Public Health, the Vehicle Sales Authority and the New Car Dealers Association of BC to ensure our operations remain healthy and safe during the COVID-19 outbreak. We are taking all necessary precautions to minimize the risk of COVID-19 transmission.
In order to reduce the possible risks to our employees and customers we have implemented a number of internal protocols, including work-from-home arrangements, virtual meetings, rescheduling work of tasks, reorganizing employee work spaces and schedules, and limiting the number of employees and visitors in the workplace. We are encouraging our customers to primarily schedule by-appointment meetings and vehicle service times wherever possible. We have installed physical distance signage and physical barriers to ensure social distancing between customers and workers. 
Occupancy Requirements: WorkSafe BC states that based on the size and layout of our facility, our legal maximum occupancy rates are as follows:
The recommended maximum occupancy for our Dueck on Marine Showroom is 200 people. 
The recommended maximum occupancy for our Dueck on Marine Service is 200 people.
The recommended maximum occupancy for our Dueck Richmond facility is 300 people.
The recommended maximum occupancy for our Dueck Downtown facility is 375 people.
However, please note that we are taking even further actions to ensure customer safety by not allowing more than 50 people on the showroom floor, and no more than 20 people in our customer waiting areas at any given time.
Dueck has implemented extensive cleaning protocols at all our facilities, and are working closely with our operational partners to ensure all products used are Health Canada approved, heavy duty antibacterial. We are a Proud and Certified Participant in the National General Motors Clean Dealership Program. There are numerous hand sanitizing and disinfectant wipes stations located throughout the facility. 
In our Service Department, we have implemented additional procedures to ensure both our employees and our customers are protected. It is our policy  to sanitize vehicle touch points and use steering wheel and seat covers upon entry to our service department, key sanitation, and a repeat of these procedures when returning the vehicle to our customer.
As always, we encourage everyone to follow the recommended behaviours from the BC Health and Authority at all times:
Wash your hands often using soap and warm water, or an alcohol-based hand sanitizer, for at least 20 seconds.

Avoid touching your face, eyes, nose and mouth.

Cover your mouth and nose when coughing or sneezing.

Be alert for respiratory systems - if you feel sick, please contact your physician. 
To ensure that we keep all our customers and employees safe and healthy we must refuse entry to:
Anyone who has had symptoms of COVID-19 in the last 10 days. Symptoms include fever, chills, new or worsening cough, shortness of breath, sore throat, and new muscle aches or headache. 
Anyone directed by Public Health to self-isolate. 
Anyone who has arrived from outside of Canada or who has had contact with a confirmed COVID-19 case must self-isolate for 14 days and monitor for symptoms. 
All the Staff and Management of Dueck Auto Group appreciate your patronage during this unprecedented time. We want to thank you for your business and would be pleased to answer any further questions you have about our COVID-19 Response Plan. 
-Dueck Auto Group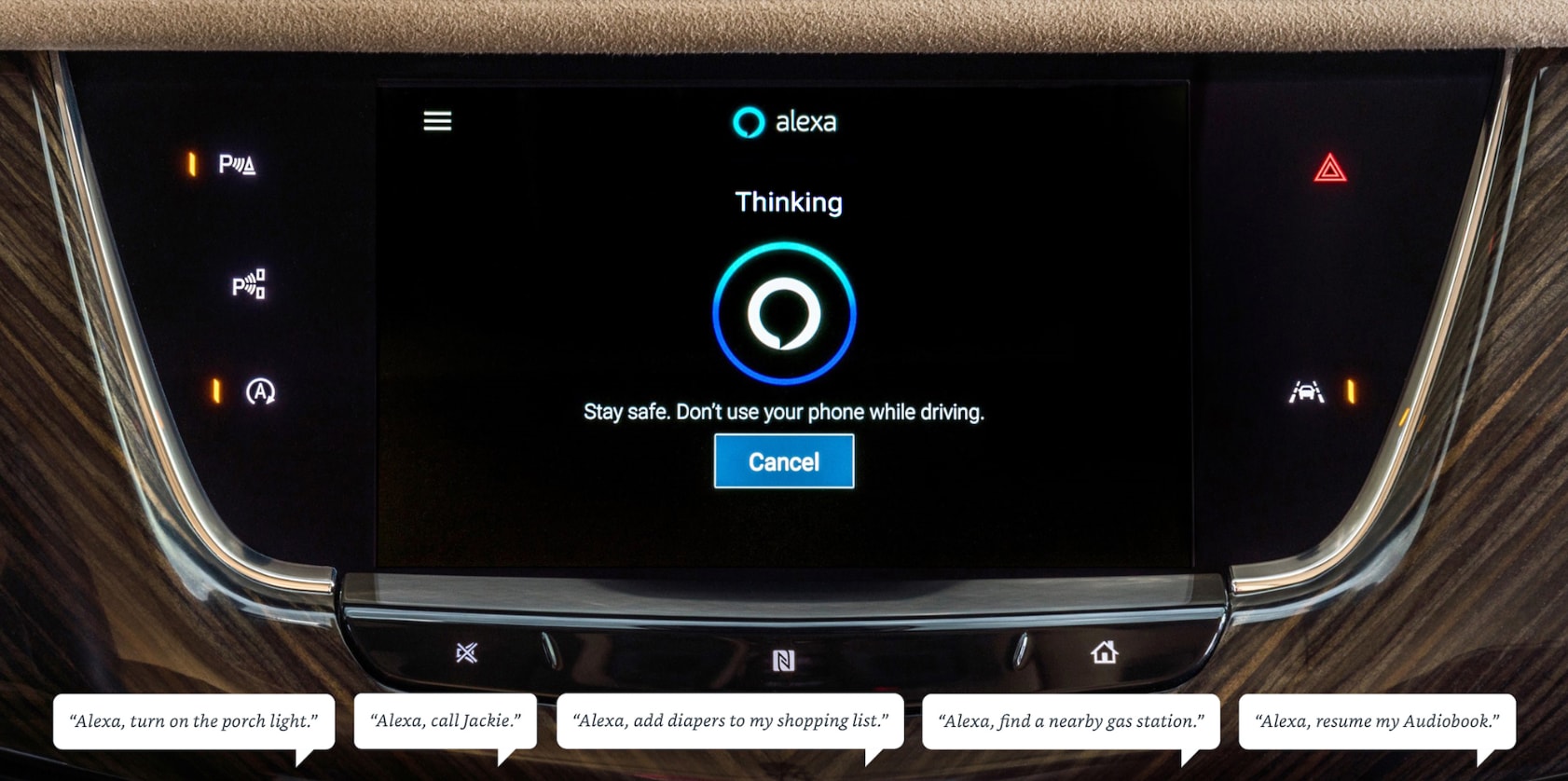 Amazon Alexa Now Arriving On New GM Vehicles
The Amazon Alexa digital assistant technology is now arriving on new GM vehicles, offering up a host of convenient voice recognition commands for new vehicle owners. GM vehicle brands offering the feature include Buick, Chevrolet, GMC, and Cadillac. The feature is built-in for many new GM vehicles, and requires the respective on-board internet connection package. The in-vehicle apps capability must be included as well. 
Amazon Alexa offers voice recognition for numerous infotainment capabilities. These include voice commands for audio streaming services, such as SiriusXM, Spotify, Pandora, and Amazon Music. What's more, owners can use Amazon Alexa to place an online order, or track an existing order, as well as add something to a shopping list without taking their eyes off the road. Further functions include placing phone calls, checking the weather, and finding nearby gas stations. 
For those with the right set up at home, Amazon Alexa will also allow users to issue a variety of smart home commands, such as opening the garage door, turning on the lights, or adjusting the thermostat. 
General Motors recently published a video documenting Amazon Alexa capabilities as equipped on the new Chevrolet Blazer. Stay tuned for that post soon. 
By: Jonathan Lopez
-June 18, 2020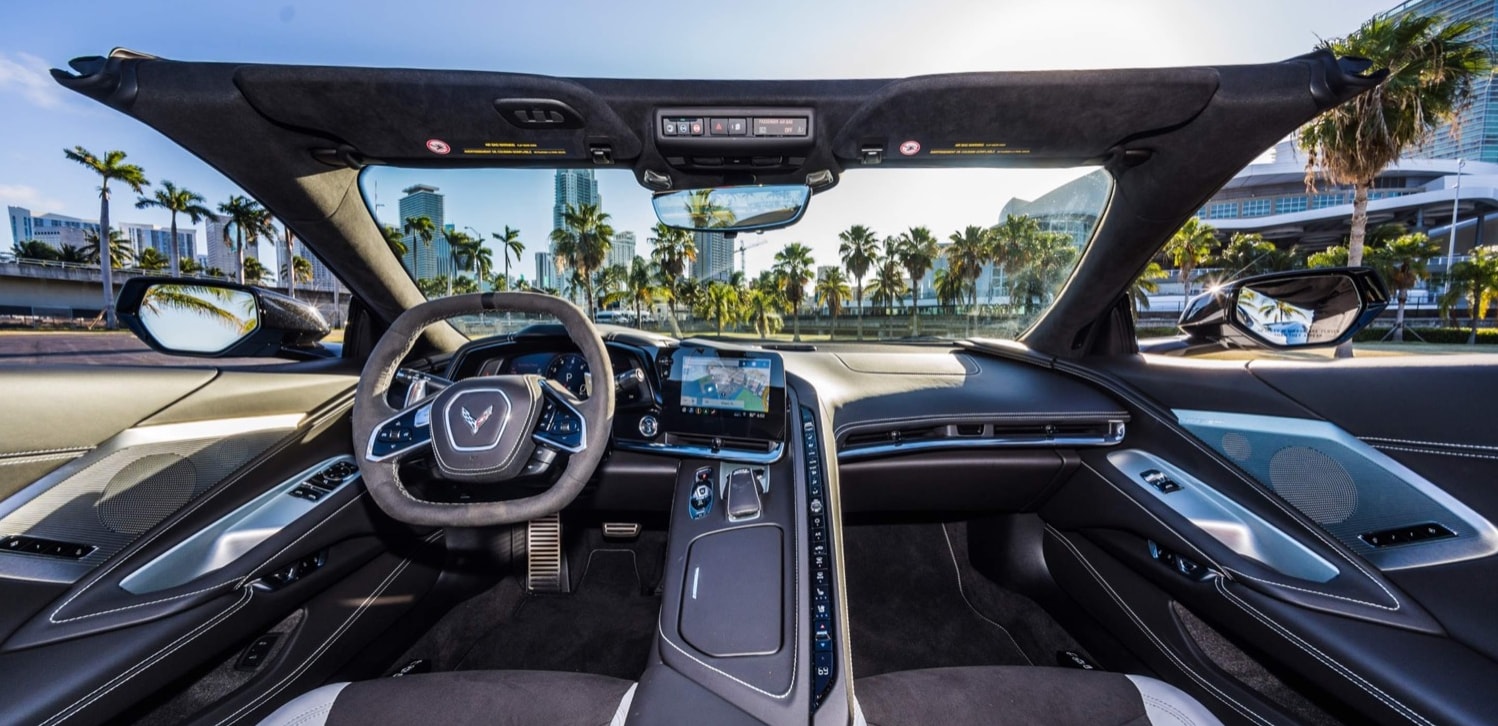 C8 Corvette Cockpit Earns A Wards Automotive 10 Best Interiors Award
Once upon a time, car reviewers and critics would frequently criticize the Chevrolet Corvette's interior for its sub-par build quality and abundance of hard plastics, but not anymore. The C7 Corvette was a massive step forward for the nameplate with regards to interior design and quality and the C8 Corvette took things even further with its contemporary layout and swath of high-end materials. 
Now General Motors is reaping the rewards of the Corvette's improved interior - literally. The C8 Corvette cabin was named to Wards' Automotive's 10 Best Interiors list for 2020.  Wards' handed the C8 Corvette compliments for its high quality leather-wrapped instrument panel, "handsomely configured" push-button transmission and the generously used microfiber suede material that is found on the instrument panel, center console, door trim, steering wheel, headliner and pillar trim. Editors were also impressed by the mix of metal, leather and available carbon-fiber trim, saying GM "achieved great harmony" with the usage of the various high-end materials.
The Corvette's cabin doesn't just look the part, either. One Wards' editor said the C8 is the "comfiest Corvette yet," and applauded the car's comfy seats and ergonomic dash layout. They also liked the small partition that sits between the driver and passenger and houses a row of buttons, saying this design details helps to envelop the driver in a sort of cocoon and adds to the overall high quality feel when in the driver's seat. 
Lastly, editors praised Chevrolet for offering an abundance of interior upholstery colours and combinations, which include Adrenaline Red, Morello Red, and Twilight / Tension Blue, among others. 
-June 17, 2020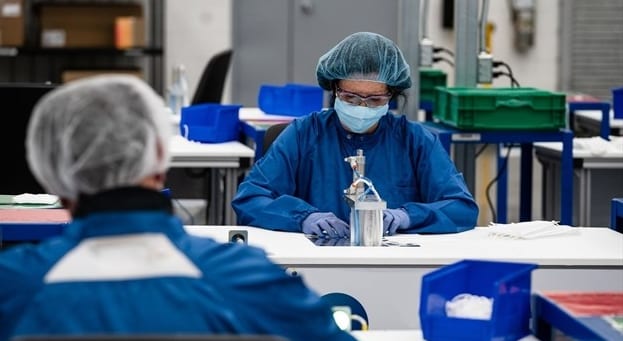 Oshawa GM Plant Begins Production of 10 Million Face Mask
Workers at Oshawa's GM plant have begun work on producing 10 million face masks over the next year, Prime Minister Justin Trudeau announced on Tuesday.
"As we speak GM employees are making these masks, they will keep people safe and help slow the spread of COVID-19," said Trudeau in his public remarks on May 26. "For the autoworkers in Oshawa, this contract will support good, well paying jobs in an industry that's faced tough times."
The formal announcement from Trudeau comes after GM stated in April that a portion of its sprawling Oshawa plant would be converted to face mask production. At the time, GM officials said the company would produce a million masks per months for the Public Health Agency of Canada at cost.
In a statement on Tuesday, GM officials said the company received its medical device license to produce the mask on April 22 and the machinery has been installed, materials had been sourced and workers had been trained over the past month.
"This is one of the proudest moments in our history to be able to step-up and support all Canadians during this challenging time," said GM Canada president and managing director Scott Bell in a statement. "With the support and collaboration of the Government of Canada, we will start production in Oshawa today and deliver 10 million face masks to the Public Health Agency of Canada over the next year."
Bell recently detailed safety steps at GM plants including screening, cleaning and sanitizing, wearing protective equipment and social distancing.
In April, GM Canada Vice-president of corporate affairs David Paterson said the Oshawa site was selected not only because of its capacity but because it had clean  room facilities. That allow GM to source material and build a Canadian mask-making clean room with enhanced safety protocols.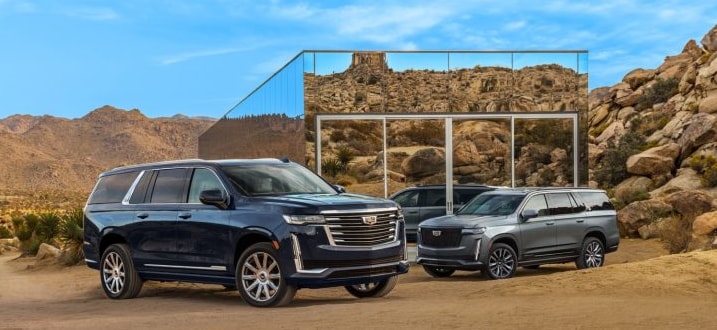 Here Are The 2021 Cadillac Escalade Tow Ratings
Now, we're back to tell you about the 2021 Cadillac Escalade tow ratings. In short, the new Escalade's trailering capabilities with the standard, naturally-aspirated 6.2L V8 L87 gasoline engine are as follows:
The regular-length 2021 Escalade can tow a maximum of 8,200 pounds 2WD models or 8,000 for 4WD models
The extended-length 2021 Escalade ESV can tow a maximum of 8,100 pounds 2WD models or 7,900 pounds for 4WD models
Meanwhile, models equipped with the optional (but free-of-charge) 3.0L I-6 LM2 turbo-diesel Duramax engine have a maximum trailering capacity that's 200 pounds lower than that of the gas engine. To wit:
The regular-length 2021 Escalade Diesel can tow a maximum of 8,000 pounds for 2WD models or 7,800 pounds for 4WD models
The extended-length 2021 Escalade ESV Diesel can tow a maximum of 7,900 pounds for 2WD models or 7,700 pounds for 4WD models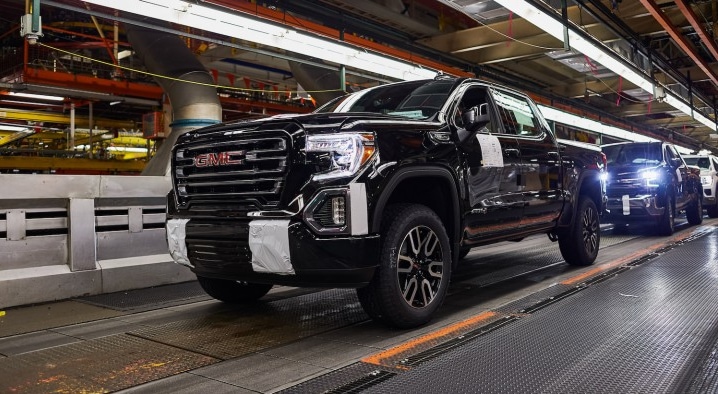 GM Targets May 18th For Reopening Plants In U.S. and Canada After COVID-19 Shutdown
General Motors is targeting May 18th for reopening its U.S. and Canadian vehicle assembly plants, the automaker said in a memo sent to UAW members on Tuesday. 
"GM plans to begin a limited, cadenced, and site-specific approach for a return to the workplace in many of our North American manufacturing facilities," the memo said. "We are targeting Monday, May 18, and we are collaborating with state governments and union partners. We are confident that we have an approach that allows us to move into this next phase with safety as our guide."
Crucially, GM has agreed to pay workers who are forced to quarantine for up to 14 days. The UAW has said the Big Three must agree to pay workers who are self quarantining after contracting COVID-19 or coming into contact with someone who had the virus, as employees may be apprehensive to report symptoms if they believed they would lose pay over it. 
GM outlined the safety measures it will take to curb the spread of  COVID-19 at its production plants once they come back online. These protocols will include taking employees' temperatures when they arrive at work, setting up hand sanitizing stations and staggering work shifts to reduce the number of employees that are concentrated in one area. The automaker developed the handbook using lessons learned at some of its plants in China and Korea, along with its ventilator production facility in Kokomo, Indiana. 
GM is expected to make an official announcement with regard to the May 18th restart date sometime on Wednesday. 
-May 6, 2020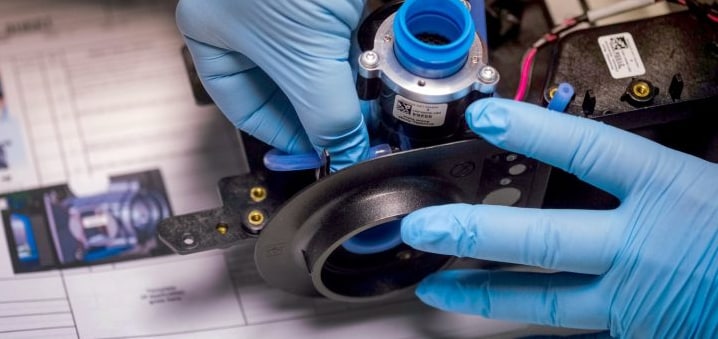 General Motors Will Begin Making COVID-19 Ventilators This Week
General Motors will officially begin making ventilators at its components plant in Kokomo, Indiana this week and will ship the first 6,000 units to hospitals before June 1st.
GM is making Ventec Life Systems brand ventilators under a government contract that will see it deliver a total of 30,000 of the life-saving devices before the end of August. GM workers were already present at the Kokomo components plant last week preparing the site to produce the ventilators. Ventec has had to retain GM workers on how to make ventilators, while the automaker has also begun producing the necessary components necessary to put them together. In a statement, GM spokes person Dan Flores told Automotive News the company is not making the ventilators at a profit. 
In addition to the ventilators, GM is also making face masks at its Warren Transmission plant in Michigan to help address the PPE supply shortage at many U.S. hospitals. It began shipping the face masks out last week and has since doubled the production output on the masks. 
GM has implemented strict safety measures at the Kokomo and Warren facilities to protect employees working there. Employees have their temperature taken with a contactless thermometer upon arriving at the plant and work at spaced out work stations. The work stations and common area are also sanitized and wiped down every few hours.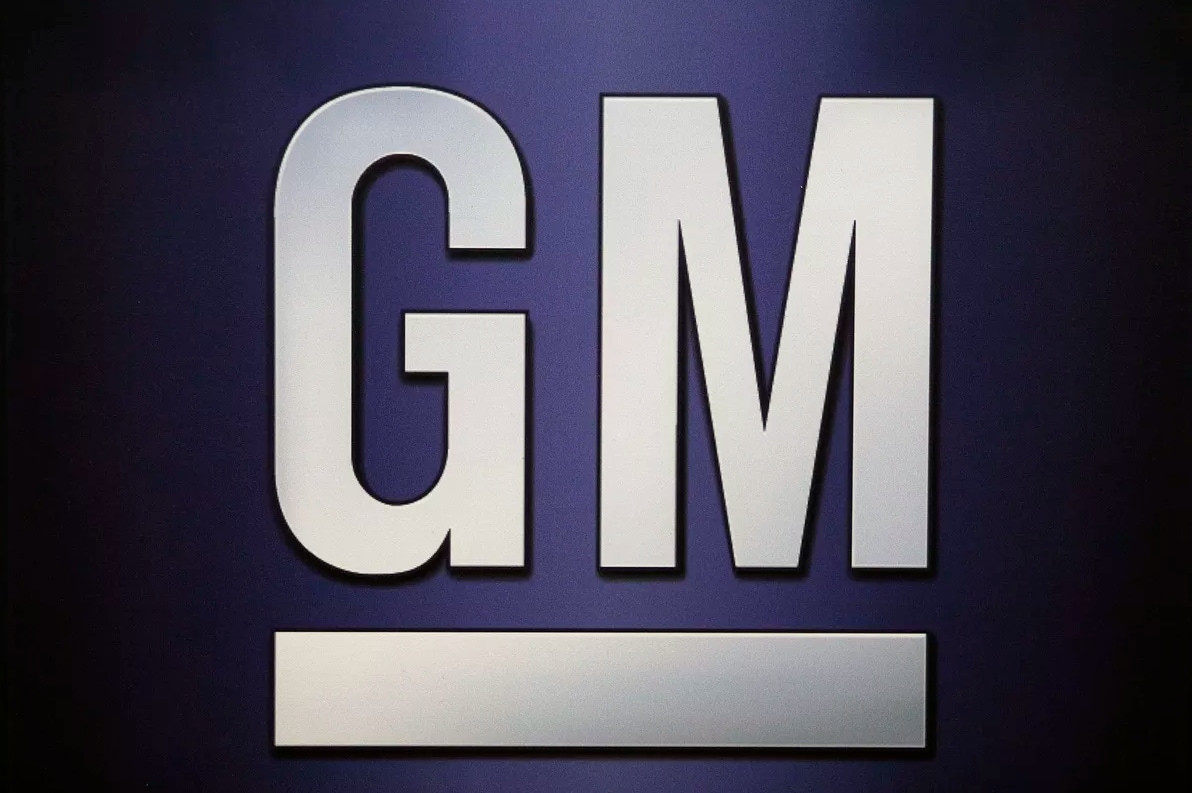 GM is partnering with Ventec Life Systems to help increase production of ventilators
General Motors is partnering with Ventec Life Systems to help increase production of ventilators that are needed in hospitals dealing with patients who have the novel coronavirus, the companies announced Friday. In the most severe cases of COVID-19 infection, patients need the assistance of ventilators to breath, and there are widespread concerns that the US does not have enough ventilators to meet the coming demand. 
Seattle-based Ventec is one of a handful of ventilator manufacturers in the US, according to NBC news, and already has ramped up its production. Ventec CEO Chris Kiple says the company is aiming to produce 1,000 machines per month (up from its usual 150 per month), in the next 90 days, and eventually, to produce 2,000 ventilators per month.
Ventec will rely on GM's manufacturing, logistics and purchasing to help build more ventilators more quickly. GM Chairman and CEO Mary Barra said in a statement that GM would "continue to explore ways to help in this time of crisis."

To Our Customers,
Over the past few weeks, it's become clear that the world is facing an unprecedented challenge. Like you, we are deeply concerned and want to do what we can to help keep our communities and our families safe and healthy.
We are committed to caring for the health and well-being of our employees and customers and are taking necessary actions & precautions, in preparation for COVID-19.
What We're Doing:
We are introducing rigorous additional cleaning procedure, and are increasing the number of wipes, hand sanitizers, and other cleaning material available throughout the dealerships. 
We're taking sensible steps to help protect our team of associates. This means fewer meetings, limiting travel, and making it easier for our people to take the time they need to care for themselves or their families in the event they are directly affected by COVID-19 
We are monitoring new developments so that we can quickly adapt
Asking staff who show any signs of illness or feel unwell to stay home.
Eliminating all physical contact including hand shaking
Disinfecting high-touch areas throughout the day, before and after every guest and staff interaction
Mandating staff  regularly wash hands and disinfect work areas even if guest interaction or staff interaction didn't occur
We recognize this is a challenging time for all, and we will remain deeply committed to the safety of our customers and community.
Our customers are the heart of our company and we look forward to welcoming and serving you. 
Please take care of yourselves and each other,
-Dueck Auto Group

OnStar Saves The Day!
OnStar helped Cleveland police track down and arrest a group of thieves after they stole a second-generation Buick LaCrosse equipped with the technology. 
According to Cleveland news, police spotted a 2015 Buick LaCrosse that help been reported stolen parked at a gas station in the city's Old Brooklyn neighborhood. As the car started leaving the gas station, police got in contact with OnStar, which enabled its Stolen Vehicle Assistance mode on the car, immobilizing it and allow police to close in and arrest the suspects. 
This isn't the first time Cleveland police have tapped OnStar to help them slow down a stolen vehicle. Last year they used the technology to immobilize a car that had been stolen in a carjacking and it also helped them recover two other stolen vehicles in 2017.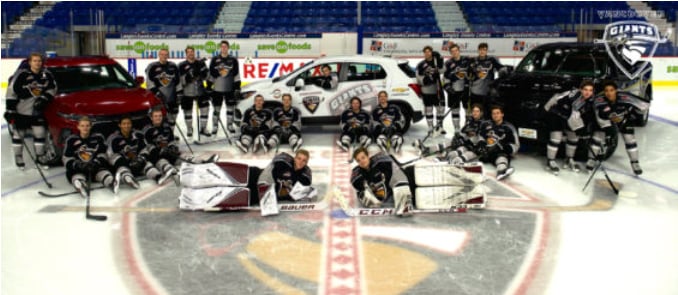 CHEVROLET FAN APPRECIATION NIGHT - TRAX GIVEAWAY!
On March 20, 2020 The Vancouver Giants and White Spot are holding their annual Chevrolet Fan Appreciation night and to make it extra special they are giving away a brand new 2019 Chevrolet Trax! Come take a look at the new subcompact crossover SUV at Dueck on Marine this Feb 4th to the 8th. Click the link below to enter! 

2.7L Turbo L3B Engine
GM is proud to announce its new 2.7L Turbo L3B Engine! This new innovated piece if machinery made its debut in the 2019 Chevrolet Silverado 1500 and the 2019 GMC Sierra 1500 producing an SAE-certified 310 horsepower and 348 pound-feet of torque. This L3B is a turbocharged gasoline engine, displaces 2.7L in an inline-four cylinder configuration, the L3B is a clean-sheet design for General Motors. The engine was developed from the outset as a truck engine.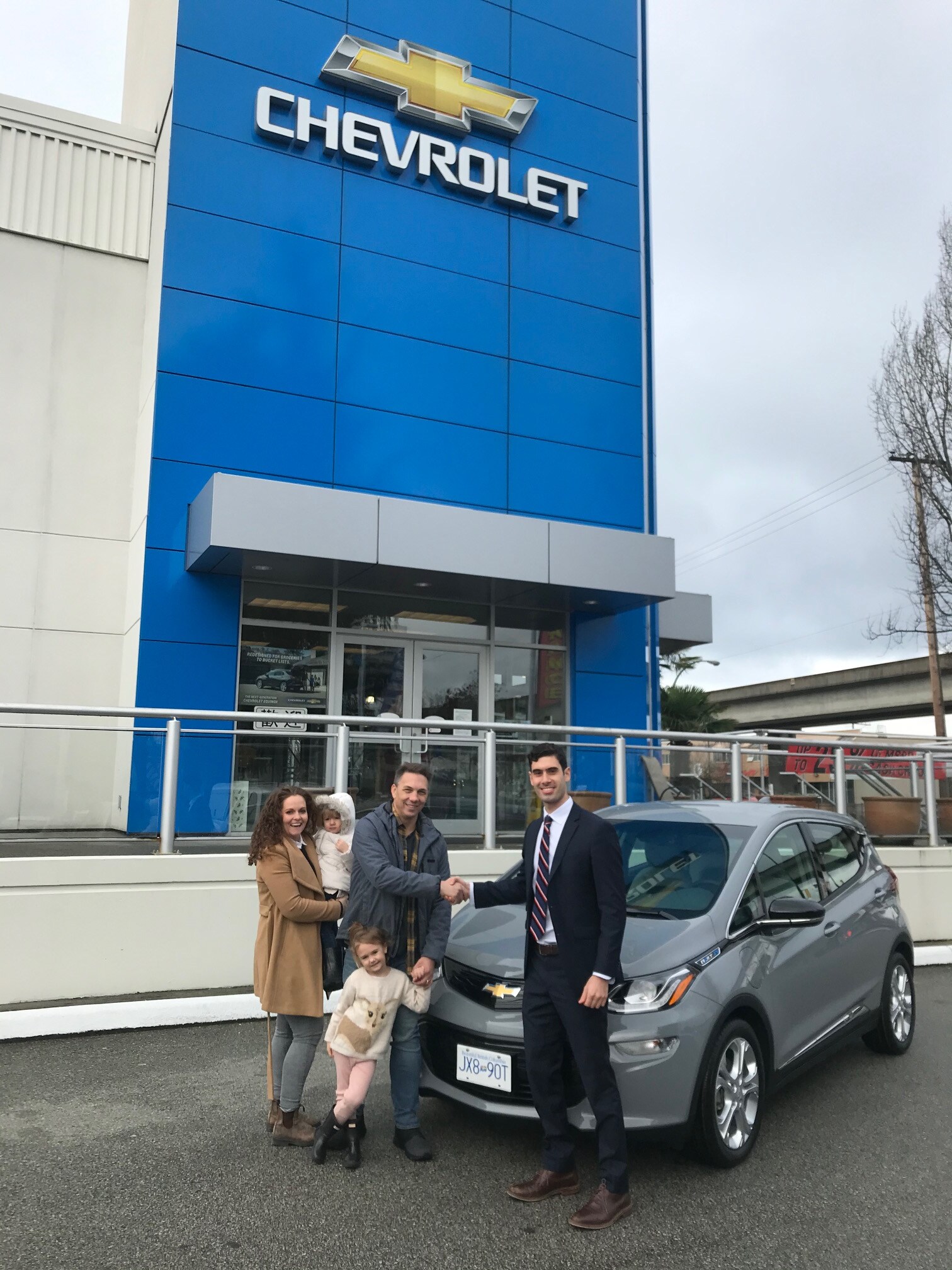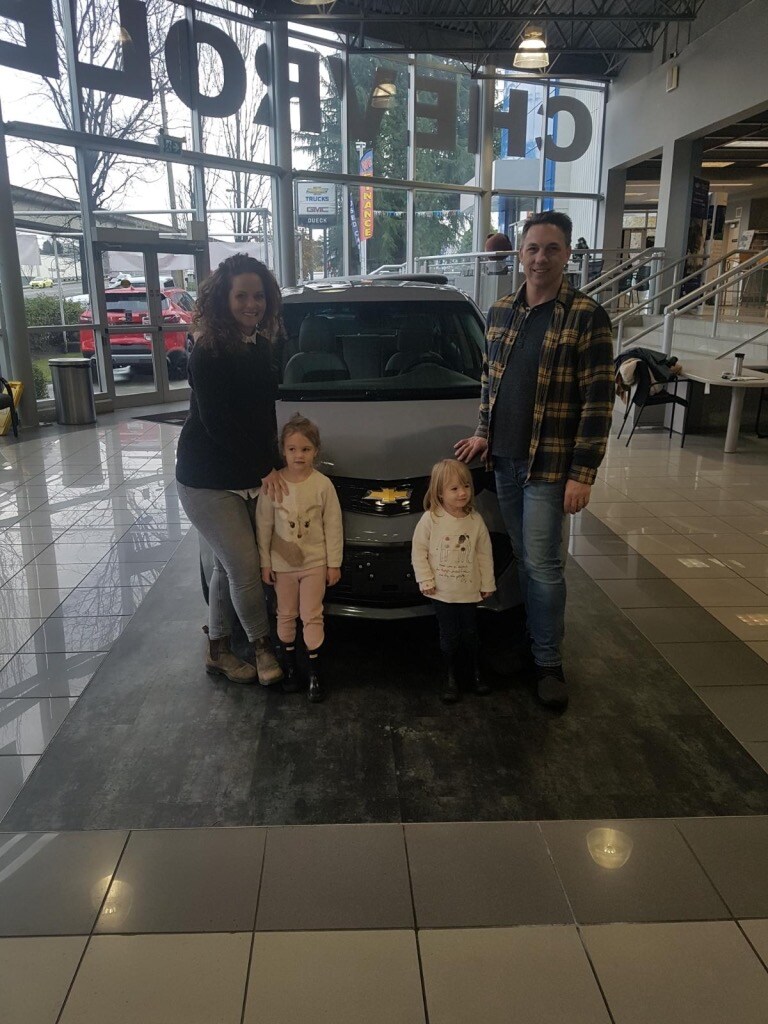 PNE Chevrolet Bolt Give Away!
On Saturday December 14th, at our Dueck Downtown location, Chevrolet gave away a free
2019 Chevrolet Bolt EV
to a lucky contest winner! We at Dueck were pleased to be apart of the joyous moment and got to watch this lovely family drive away in their new electric vehicle. This contest ran at the PNE this past August. Stay tuned for Chevrolet's newest contests for your chance to win some amazing prizes!
This Is The 2021 Chevrolet Tahoe
The 2021 Chevrolet Tahoe has made its official debut! Let's get the important bits out of the way first: General Motors' 5.3L L84 V8 gasoline engine will be standard on LS, LT, Z71, RST and Premier trim models, while the 6.2L L87 V8 will be standard on the High Country. The 5.3L engine is good for 355 horsepower and 383 pound-feet of torque, while the 6.2L engine makes 420 horsepower and 460 pound-feet of torque.
GM's 3.0L LM2 I6 Duramax turbodiesel engine, which makes 277 horsepower and 460 pound-feet of torque, will be available on all trim levels except for the off-road-focused Z71. All models will also use the GM 10-speed automatic transmission with electronic shift, ditching the column shifter for a row of buttons in the process.
The 2021 Chevrolet Tahoe uses GM's T1 platform and has a new independent multilink rear suspension, which GM says is the most sophisticated suspension in its class. The SUV offers GM's existing Magnetic Ride Control system, but the vehicle is also offered with a new Air Ride Adaptive Suspension, available on the new range-topping High Country model and the Z71 off-road model. The Air Ride Adaptive Suspension has automatic load leveling and ride height adjustment, with up to four inches of adjustment available.
Also setting the new High Country model apart is a chrome dual exhaust, 22-inch wheels and chrome exterior trim. Meanwhile, the Z71 model gets standard four-wheel drive, a unique front fascia with red tow hooks, 20-inch wheels wrapped in all-terrain tires and Z71 exterior badging. The RST trim has returned as well, offering buyers LT content with a sport-inspired exterior appearance and 22-inch wheels.
A total of five different display screens will be offered in the SUV, depending on the trim level chosen. These include a standard 10-inch color touchscreen, an 8-inch digital instrument cluster, a segment-exclusive 15-inch head-up display and two 12.6-inch LCD rear-seat displays. The 10-inch screen comes standard with Apple CarPlay and Android Auto, a good compliment to the OnStar 4G LTE Wi-Fi hotspot. Multiple USB charging ports are also scattered throughout the cabin, while a wireless charging pad is standard on all models except for the entry-level LS.
The 2021 Chevrolet Tahoe looks to meet the towing expectations of full-size SUV buyers with a Max Trailering package, which includes a high-capacity radiator and cooling fan, an integrated trailer brake controller, Hitch Guidance with Hitch View and Chevrolet trailering app compatibility. The SUV also features up to exterior camera views to help make the towing experience less stressful, along with an in-vehicle trailering app with trailer profiles, trailer tire pressure and temperature monitoring.
As far as active safety goes, Automatic Emergency Braking will be standard on all models. Some of the available safety equipment will include HD Surround Vision, Rear Pedestrian Alert, Lane Change Alert with Side Blind Zone Alert and Lane Keep Assist with Lane Departure Warning. The vehicle's available Side Blind Zone Alert system works with trailers, too.
GM says it will also offer nine exterior colors on the SUV including three all-new colors: Empire Beige Metallic, Cherry Bomb Tintcoat and Darkmoon Blue Metallic.
This Is The All - New 2021 Chevrolet Suburban 
General Motors just pulled the sheets on the all-new 2021 Chevrolet Suburban. Celebrating its 85th anniversary next year, the Chevrolet Suburban is the longest-running nameplate in automotive history, and now enters its 12th generation.
The changes start from the ground up, and include an all-new architecture that increases the wheelbase by 4.1 inches. However, overall length was increased by just 1.3 inches.
Making the 2021 Chevrolet Suburban more nimble is a new independent rear suspension with optional Magnetic Ride Control. Chevy is also offering a first-in-class Air Ride Adaptive Suspension setup with load leveling and up to four inches of ride-height adjustment.
Behind the first row, the 2021 Chevrolet Suburban offers more room and a lower cargo floor as well. Max cargo capacity is up to 144.7 cubic feet, an increase of 24 cubic feet compared to the 2020 model year. There's also more legroom for second- and third-row passengers.
The trim level cadence now breaks down as follows: LS, LT, Z71, RST, Premier, and for the first time on Suburban, High Country. There's an all-new interior design with a standard 10-inch infotainment screen, plus up to five display screens scattered around the cabin to keep occupants entertained.
Speaking of tech, the 2021 Chevrolet Suburban also offers upwards of 30 safety and driver convenience features, such as HD Surround Vision, Rear Pedestrian Alert, and Automatic Emergency Braking.
Under the hood, the new 'Burban now offers the 3.0L LM2 inline-six turbo-diesel Duramax engine, plus a pair of gas-fueled V8s that includes an optional 6.2L L87 and standard 5.3L L84. Power ranges up to 420 horsepower and 460 pound-feet of torque for the optional 6.2L unit. All engines mate to the standard GM 10-speed automatic transmission with push-button electronic shift.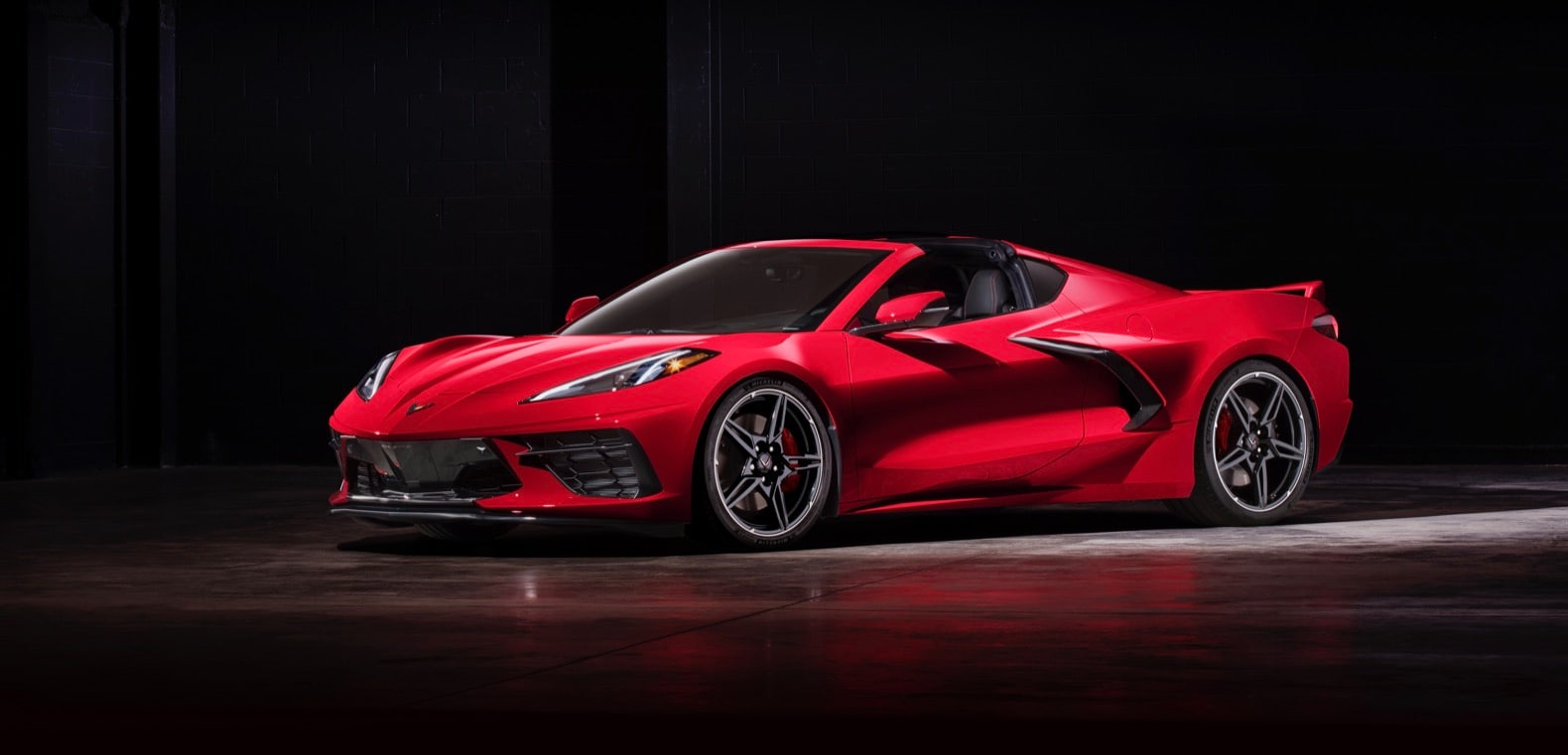 CHEVROLET CORVETTE STINGRAY NAMED 2020 MOTORTREND CAR OF THE YEAR
Oshawa, Ont. (November 19, 2019). - The redefined Chevrolet Corvette Stingray won the 2020 MotorTrend Car of the Year award, earning the mid-engine masterpiece a top spot among the best vehicles the world has to offer for the third time in Corvette's history.
The coveted honour, previously awarded to Corvette in 1984 and 1998, was presented to Tadge Juechter, Corvette executive chief engineer and Michael Simcoe, General Motors vice president of Global Design, at an event featuring industry executives and celebrity guests at MotorTrend's headquarters in El Segundo.
"It's an honour for the Corvette team to receive this coveted award from MotorTrend against the best the industry has to offer," said Juechter. "Our design and engineering teams spent several years sweating the details to deliver the first mid-engine Corvette. To have a third party validate our hard work makes it all worthwhile."
Chevrolet's first-ever production mid-engine Corvette represents the fastest, most powerful entry-level Corvette in the vehicle's 66-year history, reaching 0-60 mph in 2.9 seconds when equipped with the Z51 Performance Package. The reimagined icon boasts exotic proportions and a modern design inspired by racing and aeronautics to deliver unprecedented levels of quality, customization, technology and craftsmanship. Powered by the next-generation 6.2L Small Block V-8 LT2 engine, the 2020 Corvette Stingray packs 495 horsepower and 470 lb-ft of torque.
"We have been looking forward to the arrival of the mid-engine Chevrolet Corvette for so long, that you'd think there is no way it could live up to the weight of expectations, but the all-new C8 Corvette epitomizes what it means to be MotorTrend's 2020 Car of the Year," said MotorTrend Editor-in-Chief Edward Loh. "Corvette delivers stunning design and world-class performance, around an exotic mid-ship layout, yet it remains a truly livable grand touring sports car, all at an almost unbelievable price point. Our 2020 Car of the Year is the one that democratizes the supercar - the Chevrolet Corvette."
Production on the Corvette will begin in February 2020 at General Motors Bowling Green Assembly Plant in Kentucky. True to its roots of attainable performance, the 2020 Corvette Stingray upholds its no-compromise value proposition, starting at $69,998 (including Destination Freight Charge of $2,000, excluding tax, title, license, dealer fees and optional equipment).