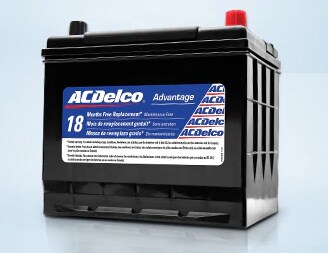 ACDelco Advantage 75A 
Designed to help eliminate shorting and "corrode-through" to improve reliability and battery life
Resistance to acid leaks, seepage, and corrosion
Maintenance-free performance
18 Months Warranty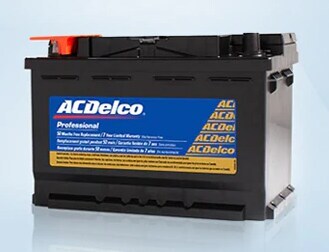 ACDelco Professional Gold
Designed to resist acid leakage
Optimized to increase cycle life
Reduced water consumption for increased battery durability
45 Month Warranty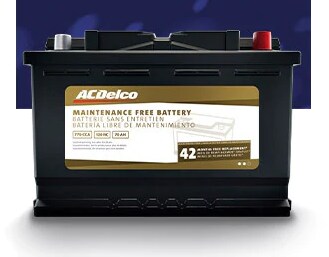 NO-CHARGED BATTERY TEST
PLUS GET A $20 INSTANT REBATE ON A NEW ACDELCO BATTERY
TIRE AND BRAKE 30-DAY PRICE MATCH GUARANTEE
Your local dealer will match the competition's prices.
If you purchase one of the aftermarket tire brands listed below and later find a better price on a better or similar brand within 30 days of the purchase, we'll refund the difference. 
Tires
BFGOODRICH, BRIDGESTONE, CONTINENTAL, DUNLOP, FIRESTONE, GENERAL, GOODYEAR, HANKOOK, KELLY, MICHELIN, PIRELLI, UNIROYAL, KUMHO
Brands
The price match applies to the brands listed above
Tire brands not carried by your dealer will not be guaranteed for a price match
Competitive Prices
The competitive price you find must be in a valid ad, written estimate, or Internet quote for identical, new tires
The tires must be an exact match in brand, tire line, size, load rating and speed rating to be eligible for the price match guarantee
Internet quotes are eligible from local tire retailers only within an 100 km radius of your dealership's location
The competitive price must come from local competing tire retailer and installer (with a physical location within 100 km of your participating GM dealer)
The competitive price must be valid within 30 days of your purchase of any of the tire brands listed above
Service and Installation
The price match guarantee is only valid on the brake price and does not include installation
To be eligible to claim, you must be a retail customer and be a resident of Canada.